Peramban web Anda akan perlu dikonfigurasikan agar dapat menjelajahi eepsites dan menggunakan outproxy yang tersedia didalam I2P. Dibawah ini adalah walkthrough untuk beberapa macam peramban yang populer.
Bagaimana mengkonfigurasikan peramban Anda
Internet Explorer 8 atau Chrome
Dalam menu tools pilih baris "Internet Options" untuk membuka pengaturan. Dalam jendela pengaturan pilih tab connections lalu klik pada LAN settings untuk konfigurasi port proxy.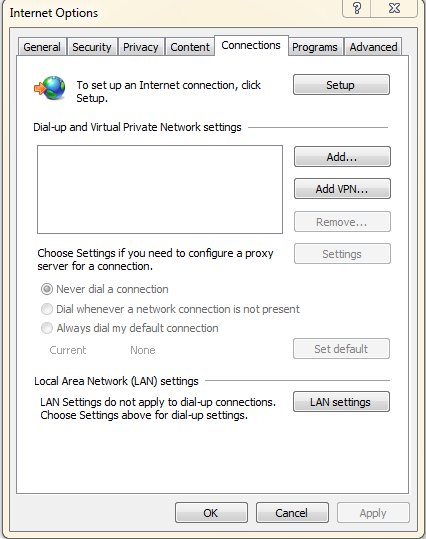 Sekarang beri centang pada "gunakan servce proxy untuk LAN Anda" dan "Bypass server proxy untuk alamat lokal". Dengan satu klik pada tombol Lanjutan Anda akan membuka jendela untuk membuka port. Masukkan value seperti pada gambar, IP 127.0.0.1 dan port 4444 untuk HTTP, port 4445 untuk HTTPS. Dengan mengklik OK Anda akan menyimpan pengaturan dan peramban Anda sudah disetel untuk menggunakan proxy I2P. Catatan/Privasi tip: Setel proxy FTP ke pengaturan yang sama seperti proxy HTTP.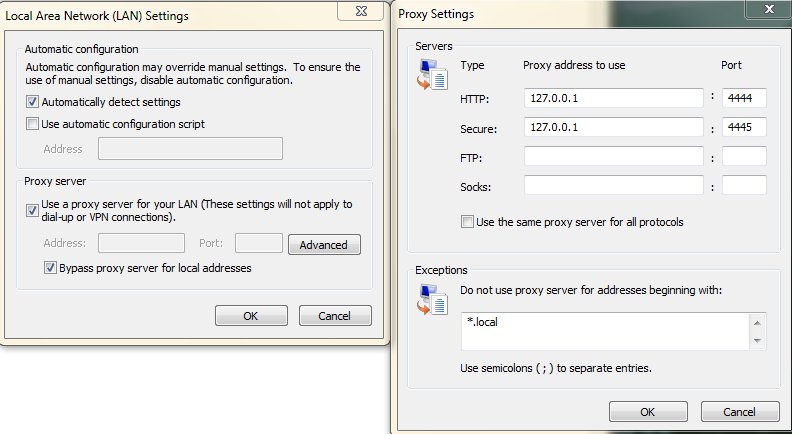 Firefox
Dari menu Tools, pilih Options untuk membuka panel pengaturan Firefox. Klik icon berlabel Advanced, kemudian klik tab Network. Pada bagian Connections, klik tombol Settings. Anda akan melihat jendela seperti berikut: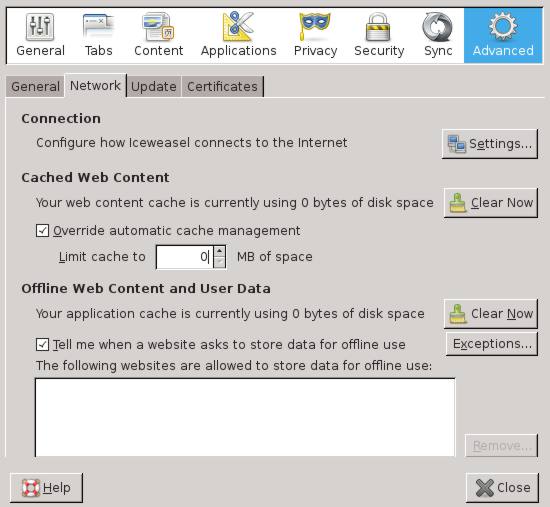 Pada jendela Pengaturan Koneksi, klik lingkaran disebelah Konfigurasi proxy manual, kemudian masukkan 127.0.0.1, port 4444 pada field HTTP Proxy. Masukkan 127.0.0.1, port 4445 pada field SSL Proxy. Pastikan Anda memasukkan localhost dan 127.0.0.1 kedalam box "No Proxy for". Catatan/Privasi tip: Setel proxy FTP ke pengaturan yang sama seperti proxy HTTP.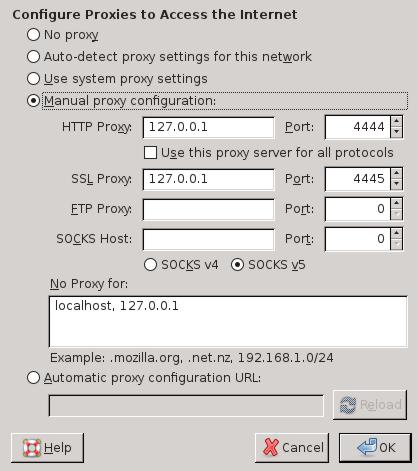 Konqueror
Dari menu Settings, pilih Configure Konqueror. Dalam grup Web Browsing pada sisi kiri, pilih Proxy, kemudian pilih opsi "Use manually specified proxy configuration" di sisi kanan.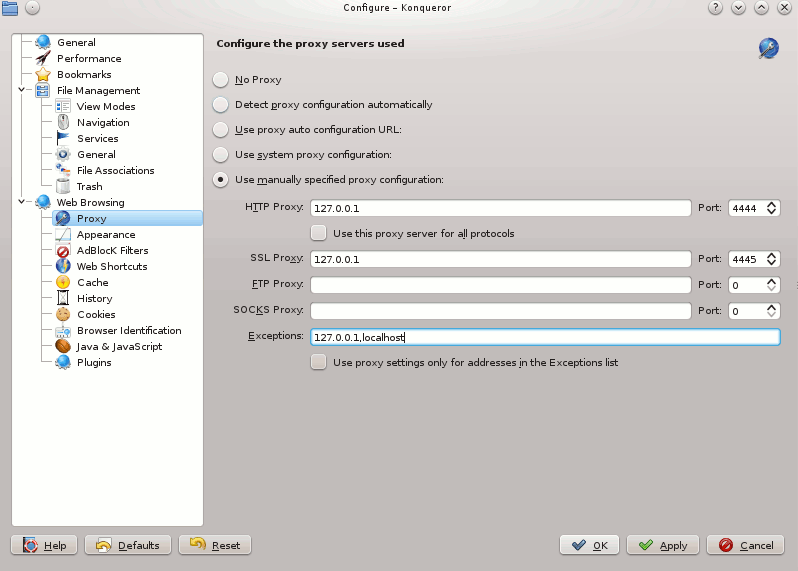 Masukkan 127.0.0.1 dan port 4444 kedalam box HTTP. Masukkan 127.0.0.1 dan port 4445 kedalam box HTTPS. Masukkan 127.0.0.1,localhost kedalam box Exceprtions. Klik Apply kemudian OK untuk menutup jendela konfigurasi. Catatan/Privasi tip: Setel proxy FTP ke pengaturan yang sama seperti proxy HTTP.
Ketentuan Layanan Outproxy
Ingat: I2P tidak dirancang untuk membuat proxy ke Internet luar. Malahan, hal ini dimaksudkan untuk digunakan sebagai sebuah jaringan internal.
The I2P project itself does not run any proxies to the Internet. The only outproxy is a service from the privacy solutions project. Consider donating to them for a continued stable service. Higher bandwidth will increase with the founding of the organization. Maybe more outproxies too.
http://privacysolutions.no
By default, I2P comes with two outproxies configured: false.i2p and outproxy-tor.meeh.i2p. Even the domain names are different, it's the same outproxy you hit. (multi-homed/keyed for better performance)
Filtering is active on these outproxies (for example, mibbit and torrent tracker access is blocked). Eepsites that are accessible via .i2p addresses are also not allowed via the outproxies. As a convenience, the outproxy blocks ad servers.
Tor adalah aplikasi baik untuk digunakan sebagai sebuah outpxory ke Internet.